即将推出-新型Ultra系列,我们用于UHP气体分析的最新分析仪系列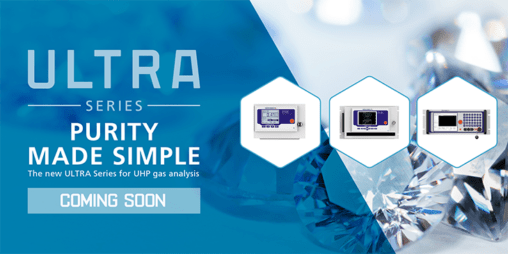 Introducing the new Ultra Series, a range of analyzers which combines exceptional performance and transformational specifications for the most stringent semicon demands.
The Ultra Series is our answer to ultra-high purity gas analysis at a low cost compared to competing technologies.
Using proven technology that is both reliable and easy to operate, this ground-breaking gas analysis solution has fast response times, low detection levels and is easy to use and maintain.
There are five models in the Ultra Series:
The DF-560E NanoTrace ULTRA – this Coulometric analyzer provides an industry-leading lower detection limit of 45ppt and offers exceptional trace-level O2 measurements
The DF-750 NanoTrace ULTRA – is a laser moisture analyzer that provides an outstanding lower detection limit of 55ppt and significantly improves on the standard version's 100ppt
DF-760E NanoTrace ULTRA – is a combined Coulometric and Laser moisture analyzer delivering dual measurements for O2 and moisture with an unmatched lower detection limit
The NanoChrome ULTRA provides lower detection limits for multiple gases down to as low as 100ppt as compared to 500ppt on the standard model
The ULTRA CART is an integrated mobile system that combines our Ultra series analyzers
With our decades of gas analysis expertise, we put new engineering, new technology, and new techniques into the Ultra Series for no risk gas analysis.