Safeguarding your system against explosion risks
Recycled waste gas by-products in ethylene plants or refineries are commonly used, either alone or blended with natural gas to create an inexpensive form of fuel for fired process heaters, dryer regenerators, boilers and turbines.
Sudden changes in the composition of the refinery/recycled fuel gas (RFG) can create an oxygen-deficient environment which, if not acted upon, can create an explosion. Most fired heaters are configured as natural draft air flow, so the only way to rapidly de-escalate a potential explosion is to reduce the firing rate until the proper air-to-fuel ratio can be restored. Early warning about how the fuel is changing can be lifesaving.
Since 2015, electric power generation in the US has been dominated by pipeline gas (35.1% in 2018), with renewable energy increasing every year (17.1% in 2018). The abundance of shale gas drilling has, however, resulted in dramatic pipeline compositional changes, as high-value components are removed at the drill site, depositing the rest into the pipeline.
Like fired heaters, when turbines and engines experience sudden changes in gas composition, the same oxygen-deficient environment will impact the integrity of the turbine/engine and can lead to an explosive atmosphere.
Power generating turbines and engines are also increasingly being used for rapid back-up power to renewable sources, keeping the grid load stable. This requires multiple startups and shutdowns on demand, ensuring safe operation and mechanical longevity is now an essential concern for plant operators.
In both RFG and pipeline gas situations, even if explosion limits are not reached, compositional variability causes fluctuating heat loads, which can result in the lower fuel efficiency as well as loss of product (process heaters) or electrical production (power turbines/engines). However, even these losses can be minor compared to excess emissions, resulting in substantial fines and earlier-than- expected mechanical failures.
Servomex offers the RFG Compositional BTU System to the process gas industry, providing real-time, feed-forward continuous compositional fuel measurements for more accurate calorific value (BTU/scf), and other density-corrected output values including CV, HHV, LHV, SG, and Wobbe Index.
For the power generation industry, we offer the Natural Gas Compositional System, which uses similar gas analysis components as the RFG Compositional BTU System, plus the addition of Methane Number output that can be used in natural gas distribution, storage, metering, blending and process applications.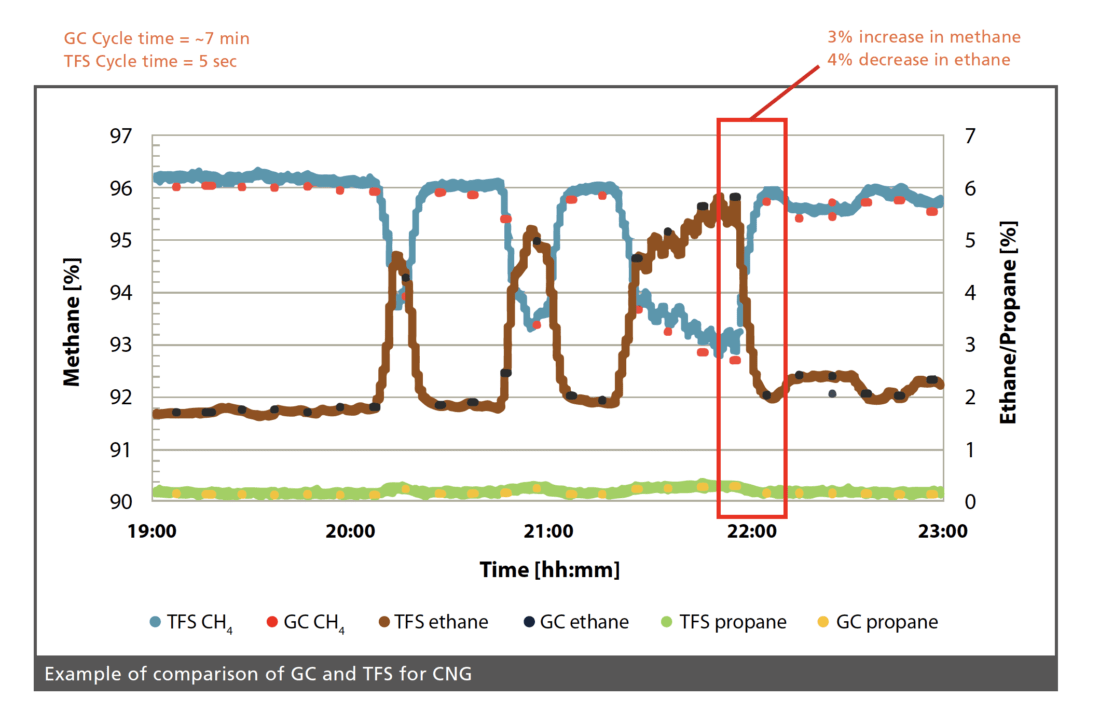 Each system provides a fully integrated enclosure, customizable HMI controller, and novel analysis technologies combining the SERVOTOUGH SpectraScan 2400 with thin film technology of the H2scan. The continuous flow-through operation of the analyzers is utilized to create an unattended in-line sampling system.
The SpectraScan 2400 is an innovative Tunable Filter Spectroscopic analyzer for rapid hydrocarbon composition. It uses a unique wavelength-scanning spectrometer, performing fast update rates for C1 through C6 gas molecule analysis. The reporting methodology is based upon the expected RFG or pipeline gas hydrocarbon composition, so that changes in concentrations are rapidly detected.
For more accurate BTU values an explosion-proof in-line hydrogen process analyzer, the H2scan, is added. This analyzer uses a solid-state, non-consumable thin film technology that provides a direct hydrogen measurement which is not cross-sensitive to other gases in the process stream.
Combining the technologies of the SpectraScan 2400 and the H2scan with the fully integrated sampling and reporting system challenges the traditional use of gas chromatography (GC) analysis of light hydrocarbons. This combination produces highly accurate measurements, comparable to GC results, but at a considerably faster speed, allowing the system to provide an early warning that the BTU and other density related indices may be changing.