Monitoring oxygen in industrial inerting processes
Inerting is a relatively straightforward process that involves monitoring oxygen (O2) to ensure it is kept below a certain level. The acceptable level of O2 is dependent on the process, but is typically between 2-8%.
Usually, when the O2 monitoring system detects that the level has risen too high, it generates an alarm and an inert gas is pumped in to decrease the level again.
Adding an inert gas, most commonly nitrogen, dilutes and displaces the flammable vapors. The resultant mixture contains O2 at an insufficient concentration to support combustion, even if an ignition source is inadvertently introduced.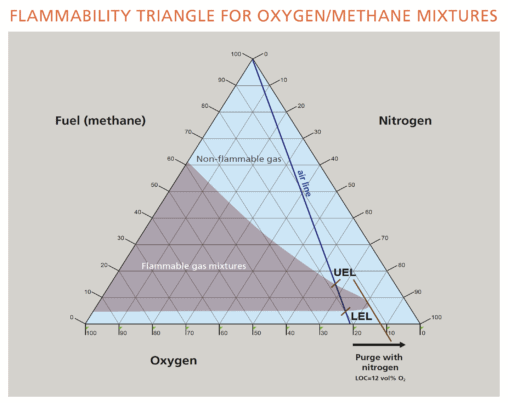 This inerting process is used in a multitude of applications across many industries, including pharmaceuticals, chemicals and petrochemicals, and is typically utilized to prevent explosions.
Oxygen is a key component of the fire triangle, along with fuel (hydrocarbon). An explosion will only occur if the concentration of O2 and fuel is within the flammable region and there is a source of ignition. If the level of O2 and hydrocarbon is outside the triangle, then even with a source of ignition there will be no explosion.
The common way of achieving this is to ensure the O2 level is too low to support the explosion. While most processes are unable to eliminate the presence of fuel sources, by limiting O2 levels it is possible to reduce or remove the possibility of an explosion occurring.
Paramagnetic monitoring
Historically, inerting processes are monitored using Paramagnetic technology, such as the Servomex-designed cell used in the SERVOTOUGH Oxy 1900. The Paramagnetic sensor is non-depleting and provides a fast response (less than five seconds) and is mostly unaffected by changes in background gases.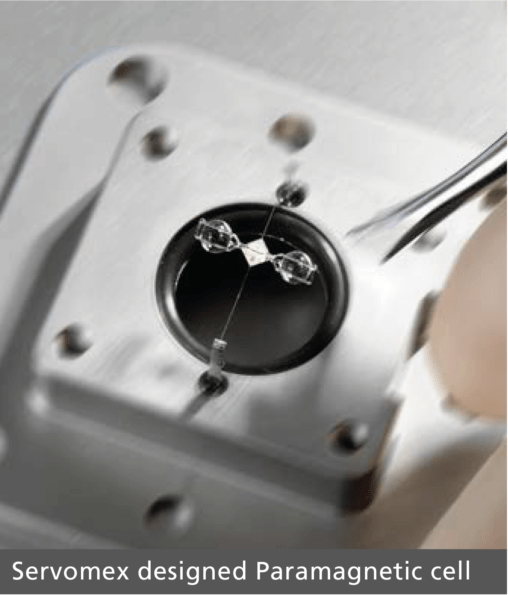 The Oxy 1900 is designed to handle samples with a high solvent content, and is extremely stable, typically requiring calibration only once every three months.
It is SIL 2 rated for safety systems, and can be used in Class I, Division 1 (IEC Zone 1) areas without the use of a purge. It can also be calibrated without needing a "hot work permit". A rugged NEMA 4X enclosure protects the analyzer electronics from dusty and corrosive atmospheres.
The chief advantage of the Oxy 1900, and of Paramagnetic sensors in general, is that the measuring cell (since it is non-depleting) does not require scheduled replacement, unlike electrochemical sensors.
In the unlikely event that the measuring cell fails, the analyzer's 4-20mA and alarm contact outputs can be configured to indicate the sensor failure. This is a fail-safe feature that allows the operator to have confidence that the cell is operating.
In contrast, electrochemical cells, because of their principle of operation, only produce a signal in the presence of O2.
If there is no signal, it means either that there is no O2 present in the sample, or the cell has failed.
This means an operator using an electrochemical cell may believe the process is operating under safe conditions, when that may not be the case.
The Oxy 1900 is a key component of Servomex's oxygen monitoring system, which is used, for example, to control inerting in centrifuges.
The maximum O2 concentration levels are programmed by the customer. When these levels are reached, the relay contact opens and initiates the nitrogen purge until the O2 returns to below customer-set levels.
This not only assures safe operation, but also saves on nitrogen consumption, since the purge is only activated once the O2 levels become too high.
The sample-conditioning system is mounted just below the Oxy 1900 analyzer and offers a compact, flexible design with user and application-driven options. The entire system can be panel-mounted or installed in a NEMA 4X IP65 stainless steel enclosure.
The system provides pressure and flow control, as well as an optional flow alarm and calibration assembly. Depending on specific process conditions, filters for light particulates or condensed solvents can also be provided.